HEADING TO THE FUTURE WITH 40 YEARS OF EXPERIENCE
Founded in February 1977 in Aachen, Germany, Oishi International started as a consultant office for German-Japanese cooperation in the field of technology transfer and the exchange of knowledge in social systems. The same year, event management and merchandising were added to the company's services. In 1983, Oishi International Syscom Co., Ltd. was established in Tokyo, Japan. The incorporation of Oishi International GmbH in Duesseldorf, Germany followed in 1991.
Today, the company looks back on more than 40 successful years that are marked by continuous growth and experience regarding technology transfer, merchandising and event management services.
Living in an era of change, Oishi International's mission going forward is to create value working together with younger generations. On the company's agenda: Contributions to society, openness to learn, cooperation and the bravery to make change.
Let us take the next steps forward and create value together!
Kazuyoshi Oishi, CEO
Keiichiro Uchida
Oishi International Syscom Co., Ltd. Managing Director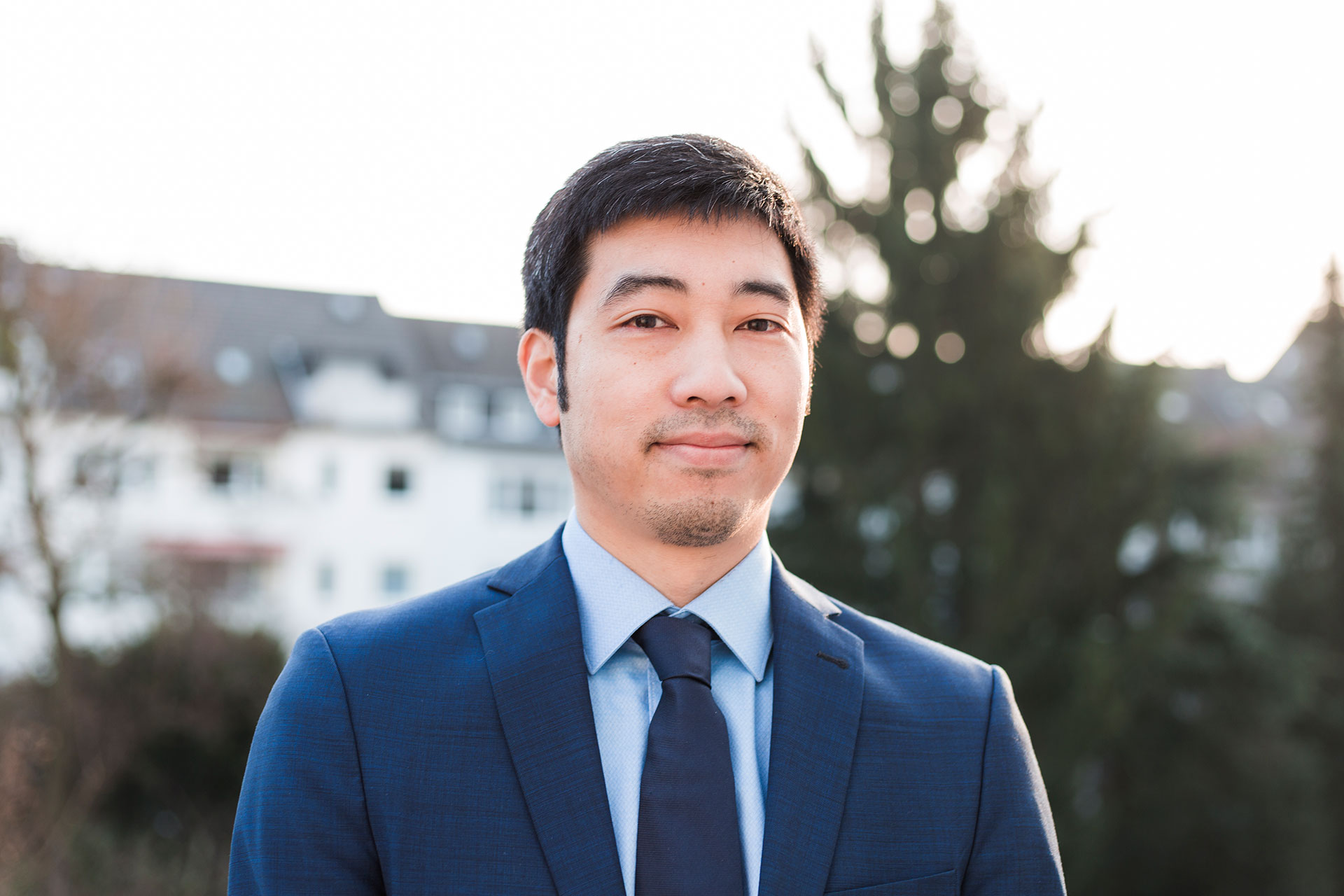 Yuta Oishi
Oishi International GmbH Director Sales Dept.
Although we live in a digital time that makes networking as easy as never before, we strongly believe in the power of face-to-face experiences. Connecting in person is crucial and carries great potential to create value together.
That's why the importance of international fairs – a place where people connect with each other – is even increasing. Although we exchange information mainly digitally, the biggest motivation for actions comes from personal encounters. When meeting and recognizing people, new ideas and values are born, which sometimes were never thought of before. We live this ideal ourselves – within our company and in contact with our clients and partners.
Also new invented technology can show its real value only when people get in touch with it, use it and develop it even further. Merchandise will help creating such kind of society where value can be enjoyed by real people on-site. We believe that value gets created when people meet and trust each other. This is the starting point for a rich daily life that can lead to a more peaceful world.
From the inspiration and visualization all the way to the final realization, we will guide our customers with technical expertise and walk with them through each planning phase. We coordinate and structure worldwide exhibitions and exclusive events professionally so that each event delivers value for the customer.
We want to help you increasing the value of your technical products and your know-how. We will guide you through that process so that you make the right steps and establish international connections.
To grow the value of your merchandise, we lay the foundation for you to connect with trusted partners worldwide.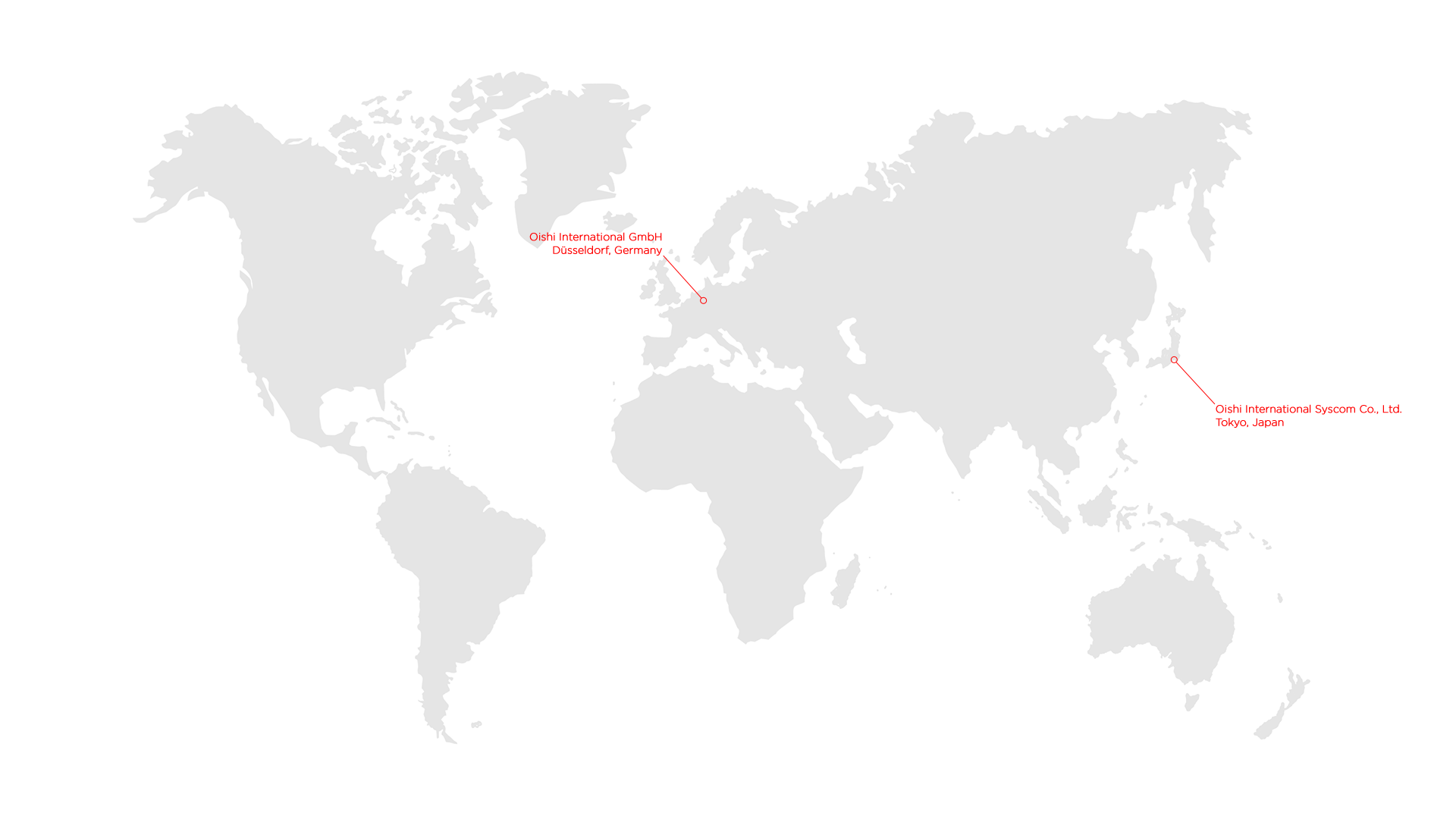 GERMANY
Duesseldorf: A+A, Medica, Aluminum, Glasstec, K Messe, Architect@Work
Cologne: IDS, Kind und Jugend, Photokina, Anuga,IMM
Hannover: Cebit, EMO
Muenchen: Drinktec, Electronica
Berlin: IFA
Frankfurt: imex Frankfurt, Ambiente, Heimtextil, Achema, IAA
USA
Las Vegas: imex America
Detroit: Aluminum
GREAT BRITAIN
London: London Olympic, Autosport International
SPAIN
Barcelona: ibtmworld
ITALY
Milan: Euroluce, Milano Salone
AUSTRALIA
Melbourne: AIME
FRANCE
Paris: Maison Objet, Mondial de'l automobile
Lyon: Pollutec
BELGIUM
Brussels: Seafood
Kortrijk: Architect@Work
SWITZERLAND
Zurich: Architect@Work
LUXEMBOURG
Luxemburg: Architect@Work
UNITED ARAB EMIRATES
Dubai: Arab Health, Gitex
BRAZIL
Sao Paulo: Hospitalar
JAPAN
Tokyo: Gift Show, In-Pharama, Tourism Expo, Coffee Expo
TAIWAN
Taipei: Tourism Expo
SINGAPORE
Singapore: Maison Objet, IFFS
RUSSIA
Novosibirsk: Traditional Japanese Craft Promotion
Moscow: Moscow Airport Advertising
Oishi International GmbH
Arnulfstr.11
40545 Duesseldorf
GERMANY
TEL:+49 (0)211-5065-31-0
FAX:+49 (0)211-6898-71
info@oishi-intl.com
Oishi International Syscom Co., Ltd.
Uchida bldg 4F, 1-5-4, Irifune, Chuo-ku,
Tokyo 104-0042 JAPAN
TEL:+81 (0)3-3551-5066
FAX:+81 (0)3-3551-5166
info@oishi-intl.com